Regular price
Sale price
€16,90 EUR
Unit price
€338,00
per
l
Sale
Sold out
Best care for gardener's hands.
Schlosskräuter Gardener's Balm hand balm - care ointment for stressed gardener's hands.
Contents: 50ml
Teilen
Inhalt

CONTENT: Shea butter, calendula oil, beeswax, avocado oil, yarrow herb tincture, propolis tincture, lavender, niauli, cypress

INGREDIENTS (INCI): Butyrospermum Parkii Butter, Cera Alba, Helianthus Annuus Seed Oil, Olea Europaea Fruit Oil, Calendula Officinalis Flower Extract, Persea gratissima Oil, Alcohol, Aqua, Lavandula Angustifolia Oil, Melaleuca Viridiflora Leaf Oil, Cupressus Sempervirens Leaf/Nut/ Stem Oil, Achillea Millefolium Extract, Propolis Extract; NATURALLY CONTAINED: Linalool, Limonene, Geraniol
Duftprofil

Krautig, vitalisierend, frisch
Anwendung

Remove any amount, rub hands well and allow to absorb. Best used in the evening before going to bed. Tip: If your hands are particularly stressed, apply a thick layer before going to bed and put on cotton gloves.

Due to the rich consistency, it is sufficient to use it sparingly.
Versand

Klimaneutraler und plastikfreier Versand via DHL GoGreen. Bearbeitungszeit in der Regel 1 Werktag.
View full details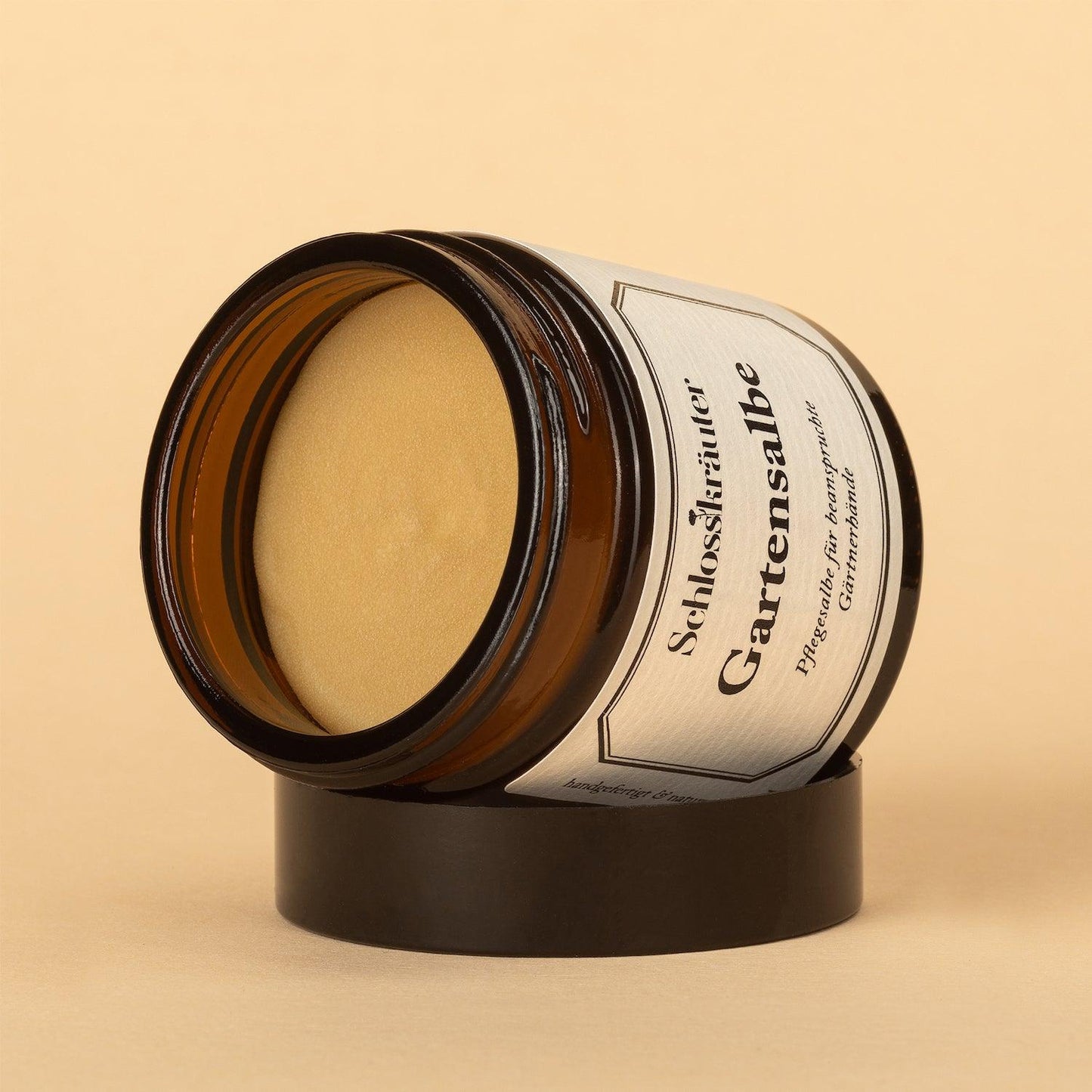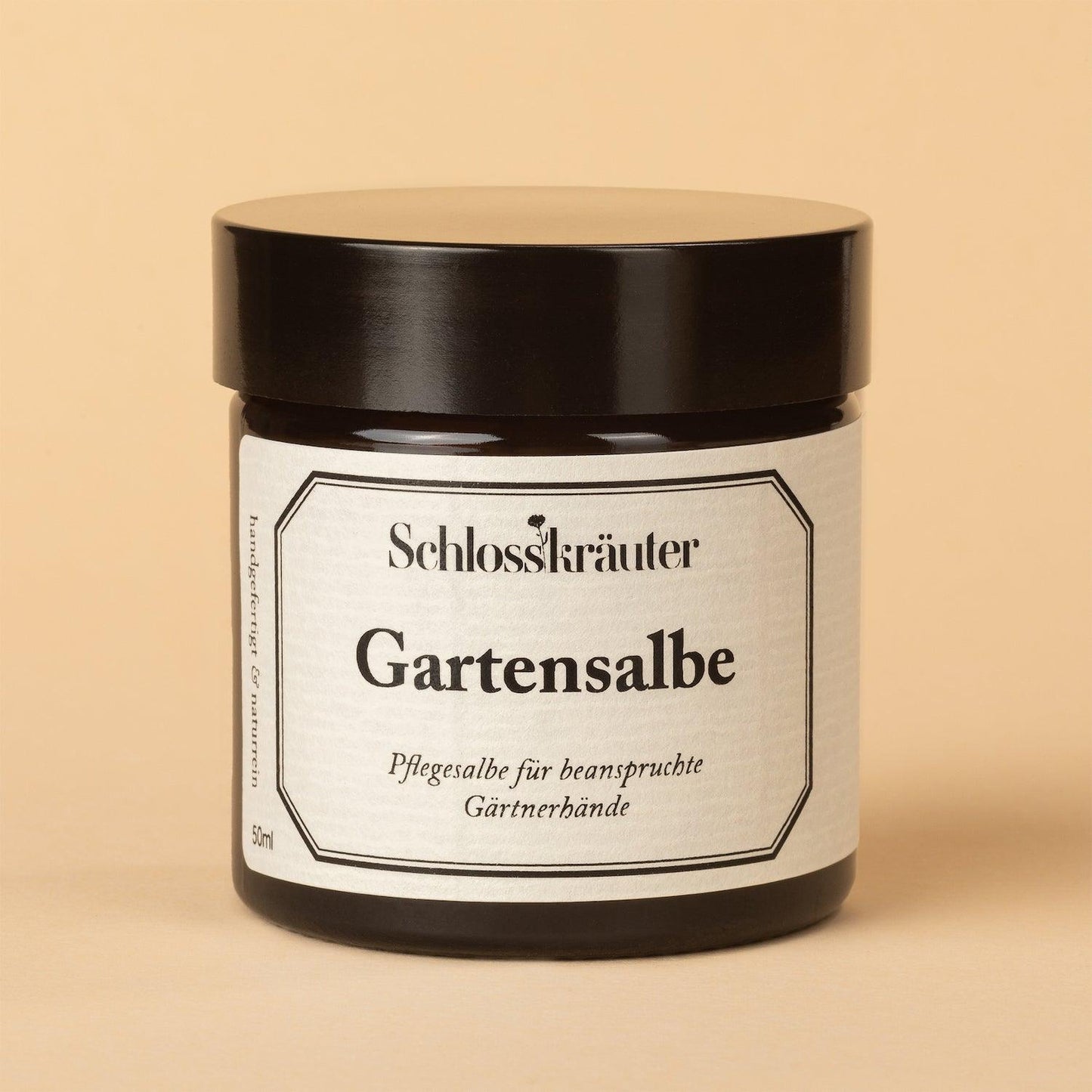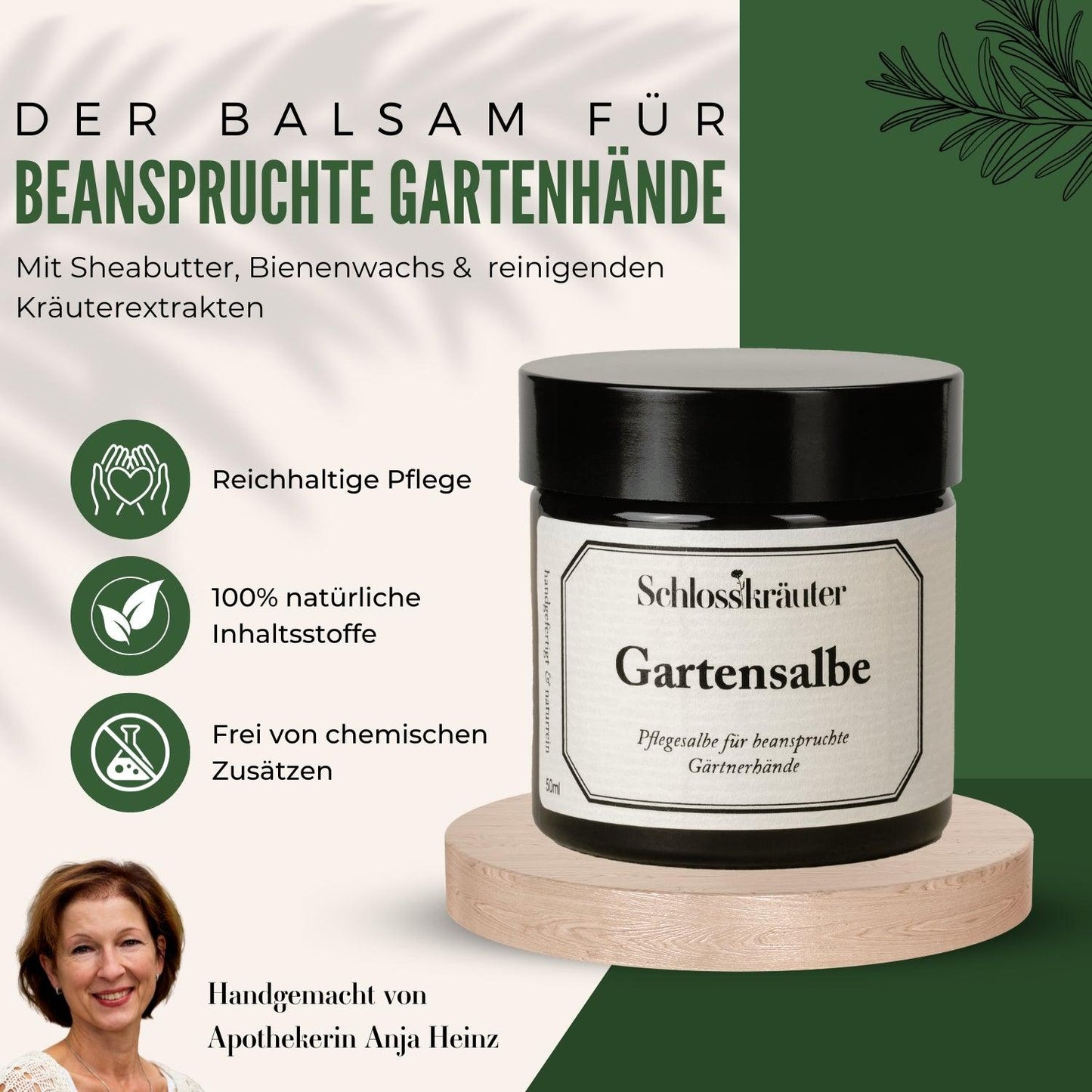 Care ointment for green thumbs
Who can relate to that? Dry, dirty skin, possibly minor abrasions, plus the scrubbing when washing: Gardeners' hands are put under a lot of strain, even when working with gloves.
Our Gardener's Balm is really good for the skin and provides long-lasting care. Yarrow extract, propolis and the essential oils contained clean, disinfect and support wound healing.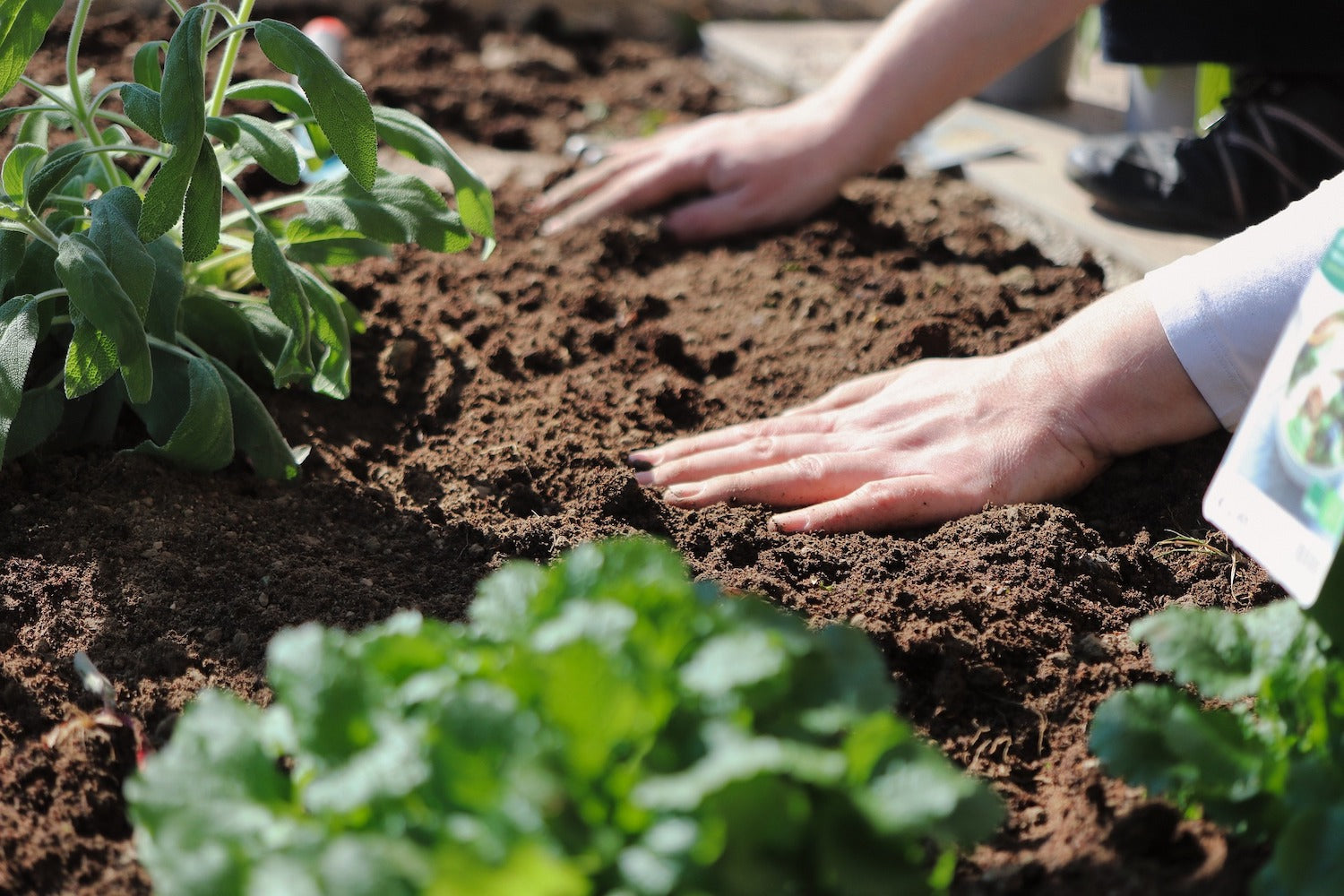 Supple gardener's hands
The ointment base consists of vitamin-rich shea butter and beeswax. Shea butter is a mild fat derived from the nut of the Central African butyrospermum tree. This contains vitamin E and valuable fatty acids that protect against wind and weather. In addition, calendula and avocado oil are incorporated into the ointment base. Calendula oil soothes stressed skin, avocado oil has an intensively regenerating effect. Both oils strengthen the natural skin barrier. Our Gardener's Balm is very rich in care, so that working in the garden is fun again tomorrow.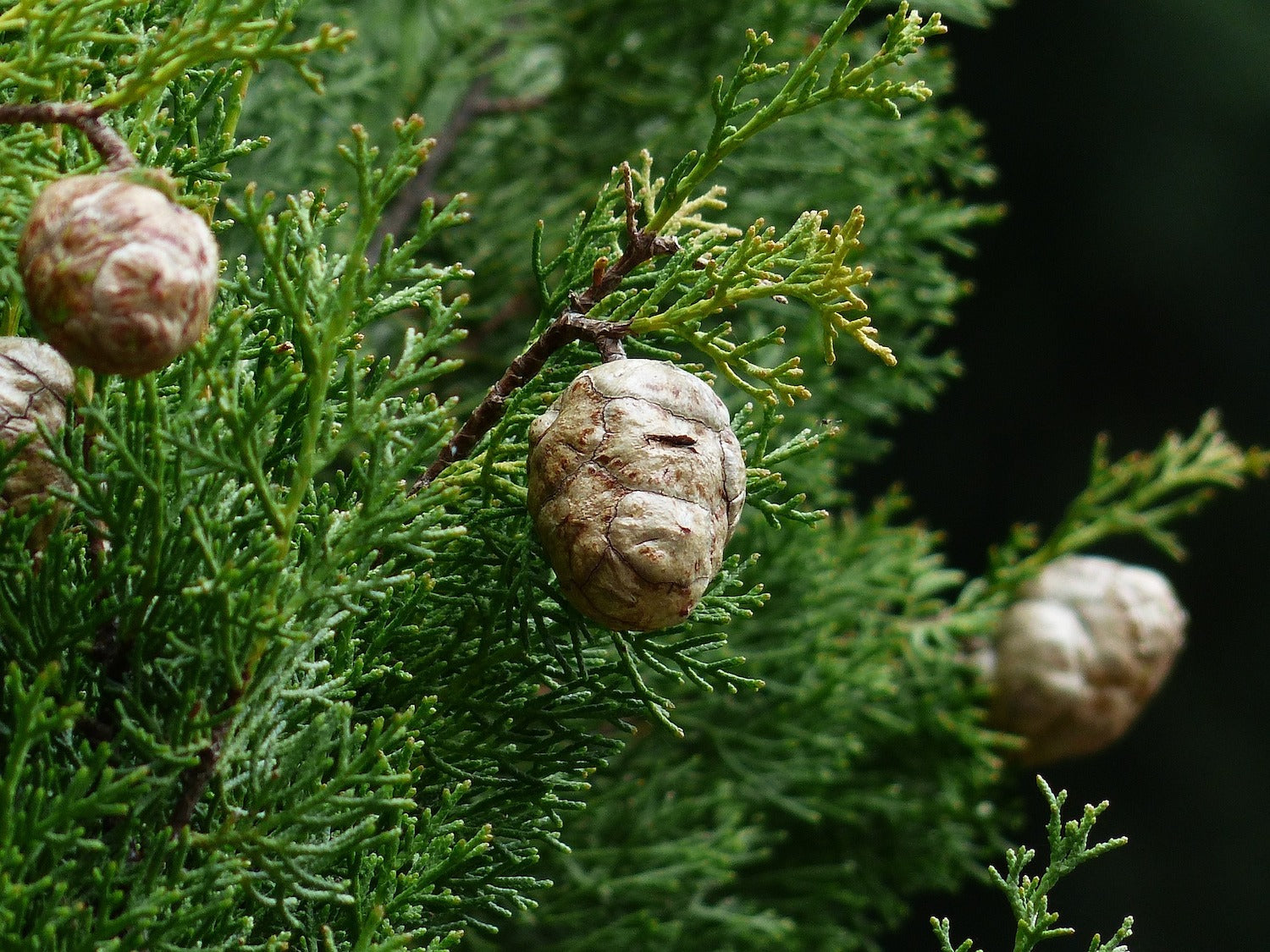 Fragrance profile
Our Gardener's Balm invigorates with a fresh, herbaceous, revitalizing scent. The essential oils from lavender, the Niauli tree and the cypress not only have a skin-cleansing effect, but also clear your mind and spirit so that you can tackle things with renewed strength and create beautiful things tomorrow.
Collapsible content
Sustainable packaging

Our ointments are always filled in reusable amber glass jars. You can easily rinse them out and reuse them for small parts such as screws. When it comes to shipping, we only use what is necessary and therefore ship completely plastic-free.
Handgemacht.

Alle unsere Produkte werden nach eigenen Rezepturen von Apothekerin Anja Heinz von Hand hergestellt, abgefüllt und verpackt. Und das schon seit fast 20 Jahren.

Natürlich.

Schlosskräuter Produkte enthalten ausschließlich hochwertige und naturreine Ausgangsstoffe, Heilpflanzenextrakte und 100% reine ätherische Öle.

Weniger ist mehr.

Unsere Rezepturen enthalten nur das, was auch wirklich nötig ist. Diese kommen selbstverständlich ganz ohne Konservierungsstoffe, Mineralöle, künstliche Parfümstoffe oder andere chemische Zusätze aus.
Bewertung vom Schlosskräuter Etsy Shop
Die Salbe war ein Geburtstagsgeschenk und kam richtig gut an, die Beschenkte hat sich sehr gefreut. Natürlich auch gleich ausprobiert: Ganz angenehmer Duft und super angenehm aufzutragen, man hatte sofort ein ganz zartes Hautgefühl. Außerdem hatten wir noch Kontakt wegen Versand, das ging alles superflott und war sehr sehr entgegenkommend. Kann ich wärmstens weiterempfehlen! VIELEN DANK!
Bewertung vom Schlosskräuter Etsy Shop
Sehr gute Pflege für meine trockenen Garten-Hände. Zieht nicht so schnell ein, wie normale Handcreme, daher empfiehlt sich die Anwendung vor dem Schlafen gehen, wie beschrieben von Frau Heinz. Gerötete Hautstellen waren schon nach einmaliger Anwendung deutlich besser.
Super!
Für meine trockenen Hände ist die Salbe super! Selbst eine kleine Menge reicht, damit sich die Haut direkt besser anfühlt. Egal ob nach dem Abwaschen oder bevor man ins Bett geht…die Salbe fühlt sich für meine Hände super hydrierend und pflegend an. Man merkt auch, dass sie sehr hochwertig verarbeitet ist, was selbst an der Verpackung zu sehen ist. Die Salbe hat einen sehr angenehmen und natürlichen Duft, der auch relativ lang anhält.
Liebe Satya, herzlichen Dank für Deine netten Worte!
Beste Handpflege, die ich je hatte
Kämpfe seit langem mit sehr trockenen und rissigen Händen.
Bereits nach ein paar Tagen waren meine Hände, nicht mehr trocken, viel geschmeidiger und hatten wieder ein natürliches Hautbild.
Zusätzlich riecht sie auch noch sehr gut!
Kann ich nur weiter empfehlen!
Lieber Matthias, vielen Dank für Deine Bewertung! Wir freuen uns, dass Dir unsere Gartensalbe helfen konnte!
Bewertung vom Schlosskräuter Etsy Shop
Sehr schneller Versand, sicher verpackt.... gerne wieder... da es ein Geschenk ist, kann ich über das Produkt an sich nichts sagen, aber so wie der Rest wird es sicherlich auch überzeugen können.