Regular price
Sale price
€9,90 EUR
Unit price
€132,00
per
kg
Sale
Sold out
For a happy liver.
Schlosskräuter Liver Tea herbal tea blend - hand-mixed herbal tea blend, free of artificial flavorings.
Content: 75g
Teilen
Zutaten

Dandelion Root Root, Fumitory, Yellow Cat's Paw Blossoms, Yarrow, Peppermint Leaves
Zubereitung

1-2 teaspoons per cup, pour boiling water over it, leave covered for 10 minutes, best use as a cure for 4-6 weeks, 2-3 cups a day.

Please note: do not use if you suffer from gallstones.
Versand & Retouren

Klimaneutraler und plastikfreier Versand via DHL GoGreen.

Bearbeitungszeit in der Regel 1 Werktag.

Geöffnete Ware ist aus hygenischen Gründen stets vom Umtausch ausgeschlossen.
View full details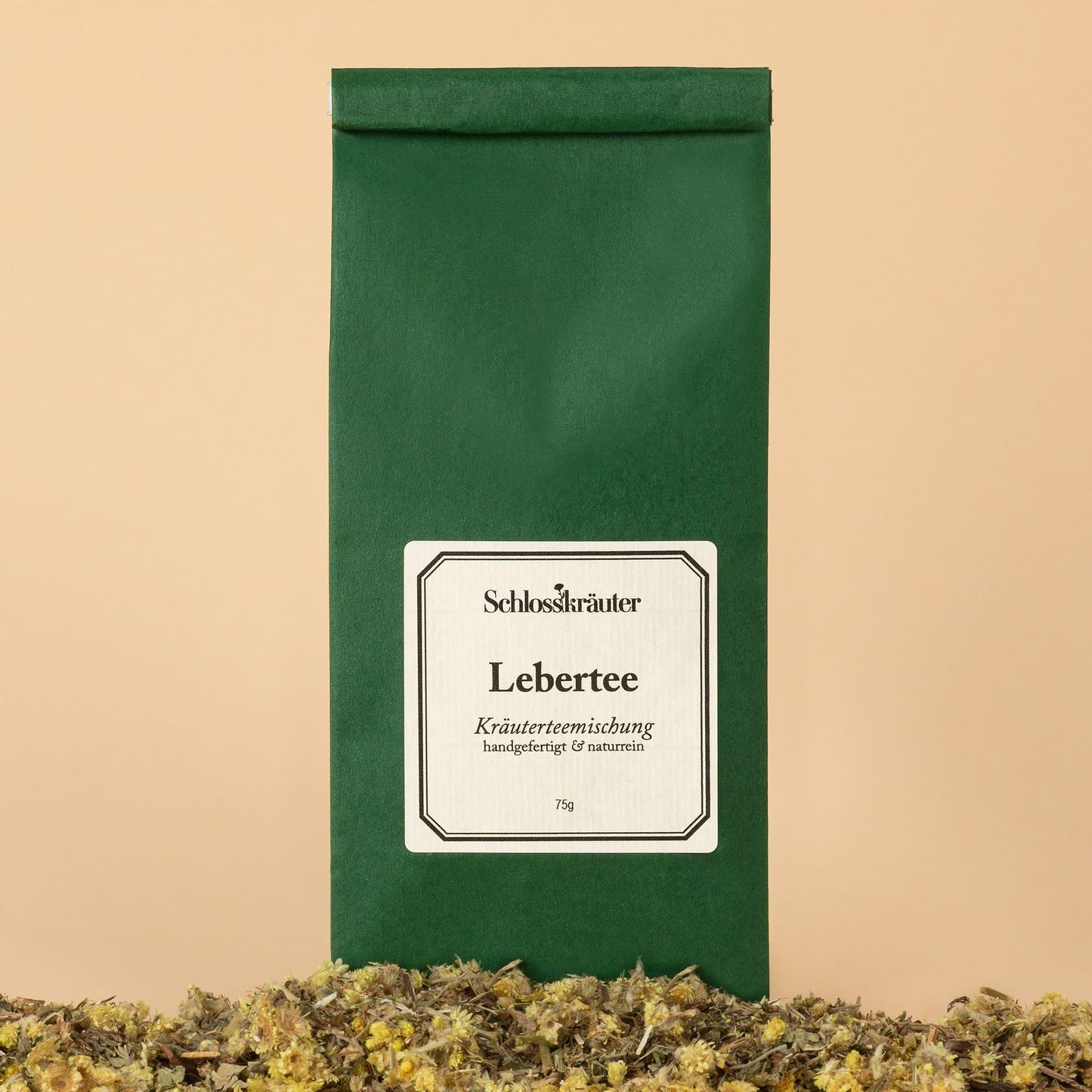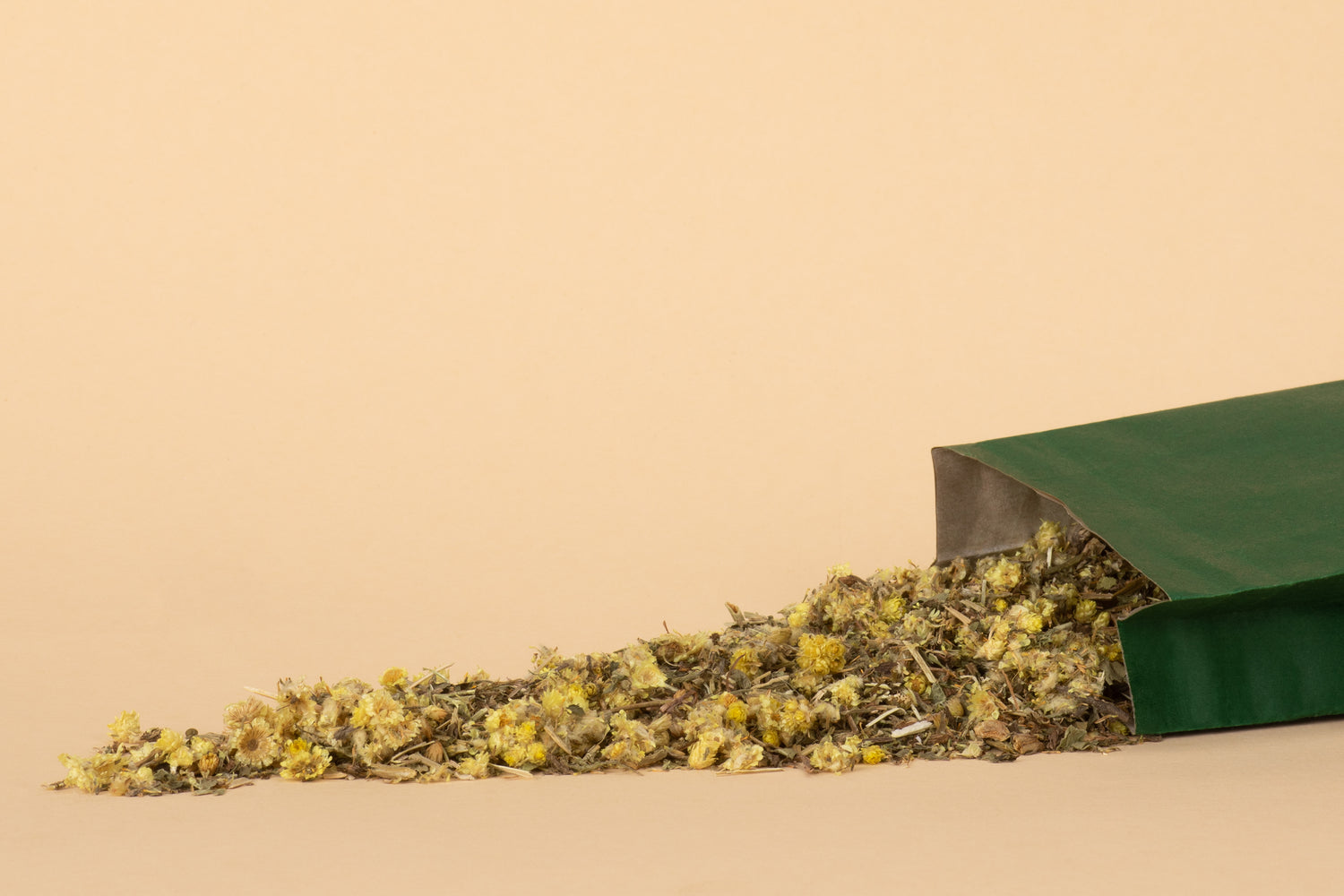 For a happy liver
Our Liver Tea is a tasty blend of herbs that was specially developed to strengthen and regenerate liver and gallbladder function. Dandelion herb, fumitory herb and yarrow herb are rich in important nutrients and naturally support the detoxification and cleansing of your liver. This balanced blend of herbs is perfect for use as part of a cure or for daily use. Support your liver in a gentle and effective way!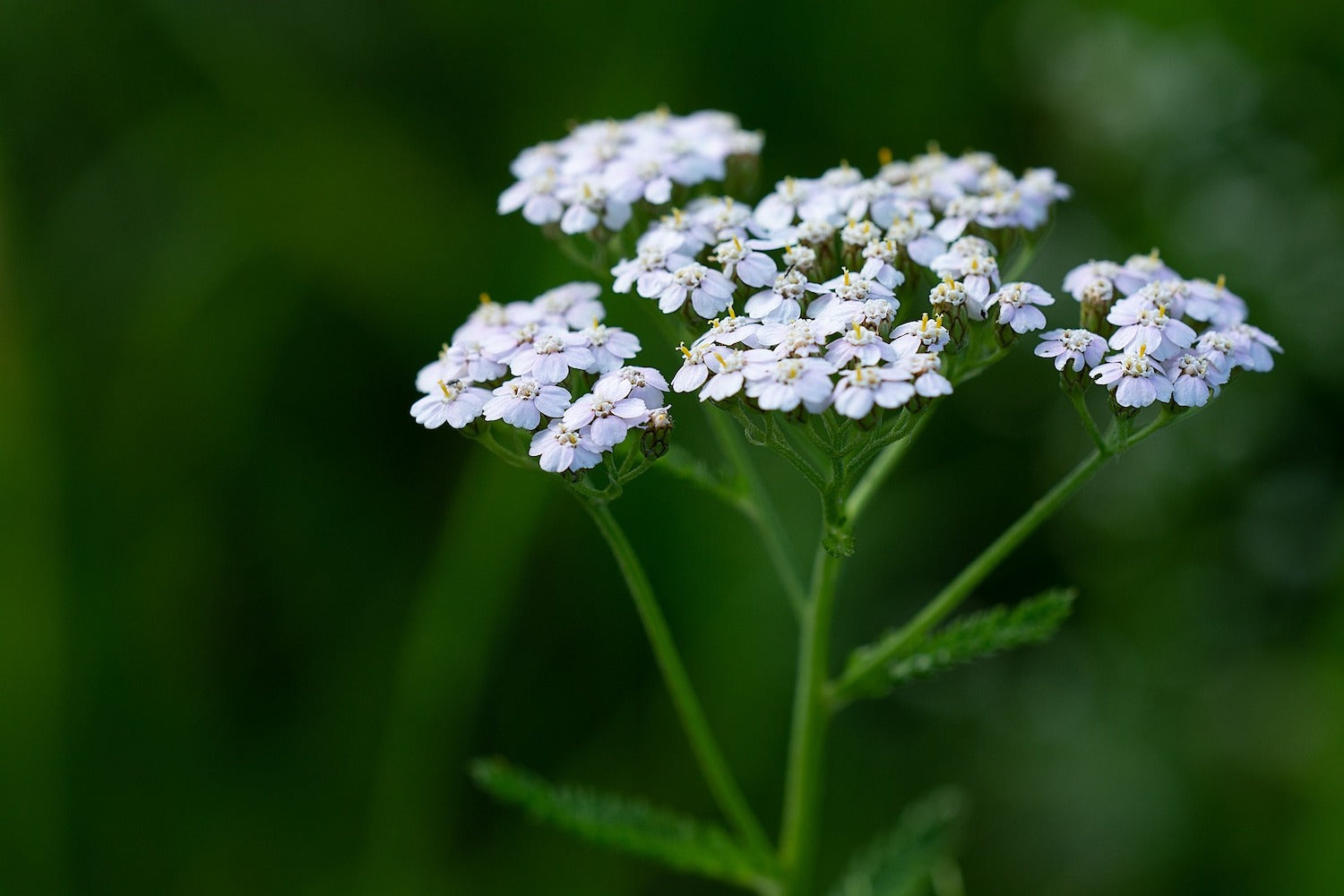 Bitter substances for the liver and bile
Send your liver and bile on a surprise trip! Our liver tea with its valuable bitter substances from dandelion herb and root, fumitory herb and yarrow stimulates the liver and bile function and gets the bile flowing again. In addition, dandelion has a diuretic effect, and its high content of vitamins and minerals gives the body fresh impetus. Yellow cat's paw flowers support the effect and delight with their appearance. Peppermint leaves complete the taste.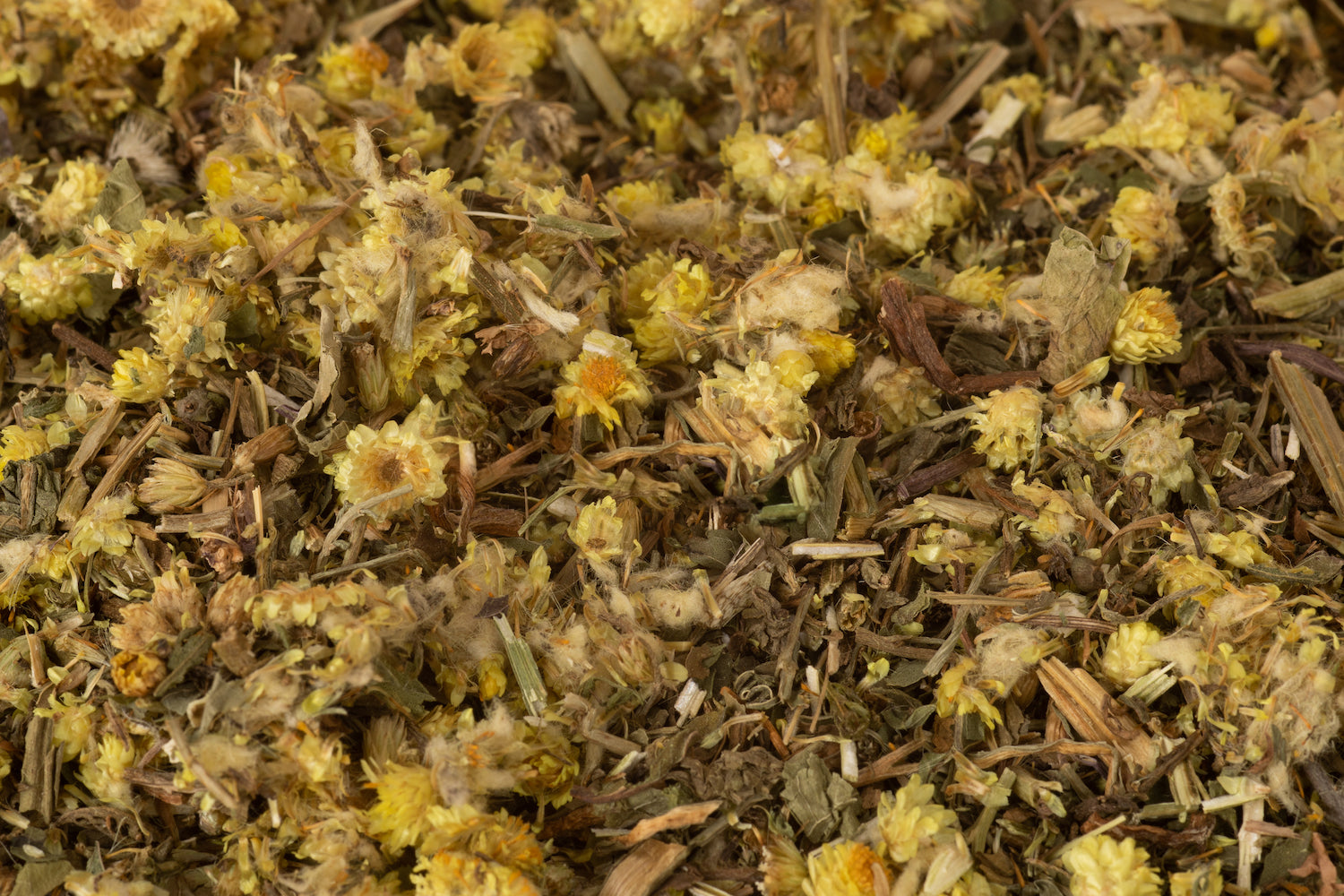 Handmade with 100% natural ingredients
Our tea blends are made, bottled and packaged by hand by pharmacist Anja Heinz according to her own recipes. These are, of course, free of artificial flavorings, contain mostly local herbs and medicinal plants and have the highest quality in terms of active ingredient content, purity and identity, so-called pharmacopoeial quality.
Collapsible content
Sustainable packaging

Our teas are always filled in resealable paper bags. These consist of recycled paper and glassine paper for optimal aroma protection. When it comes to shipping, we only use what is necessary and therefore ship completely plastic-free.
Handgemacht.

Alle unsere Produkte werden nach eigenen Rezepturen von Apothekerin Anja Heinz von Hand hergestellt, abgefüllt und verpackt. Und das schon seit fast 20 Jahren.

Natürlich.

Schlosskräuter Produkte enthalten ausschließlich hochwertige und naturreine Ausgangsstoffe, Heilpflanzenextrakte und 100% reine ätherische Öle.

Weniger ist mehr.

Unsere Rezepturen enthalten nur das, was auch wirklich nötig ist. Diese kommen selbstverständlich ganz ohne Konservierungsstoffe, Mineralöle, künstliche Parfümstoffe oder andere chemische Zusätze aus.
Alles top
Schnelle Lieferung, guter Geschmack. Gerne wieder!
Bewertung vom Schlosskräuter Amazon Shop, 27.10.2023
Den Lebertee habe ich neben den Stoffwechseltee bestellt und er überzeugt ebenso! Versand und Preis-Leistung stimmt. Zur Kur kann ich leider nichts sagen, da ich ihn erst zweimal getrunken habe. Wer aber einen etwas anderen Kräutertee ausprobieren möchte, ist definitiv gut bedient.