Regular price
Sale price
€4,90 EUR
Unit price
€65,33
per
kg
Sale
Sold out
Power food for your liver.
Schlosskräuter whole Milk Thistle Seeds - milk thistle fruits to regenerate and strengthen the liver.
Content: 75g
Teilen
Zubereitung

Sprinkle 1-2 teaspoons crushed over muesli, porridge, salads or soups. It is best to use it as a cure for 4-6 weeks several times a year.

Store dry.
Versand & Retouren

Klimaneutraler und plastikfreier Versand via DHL GoGreen.

Bearbeitungszeit in der Regel 1 Werktag.

Geöffnete Ware ist aus hygenischen Gründen stets vom Umtausch ausgeschlossen.
View full details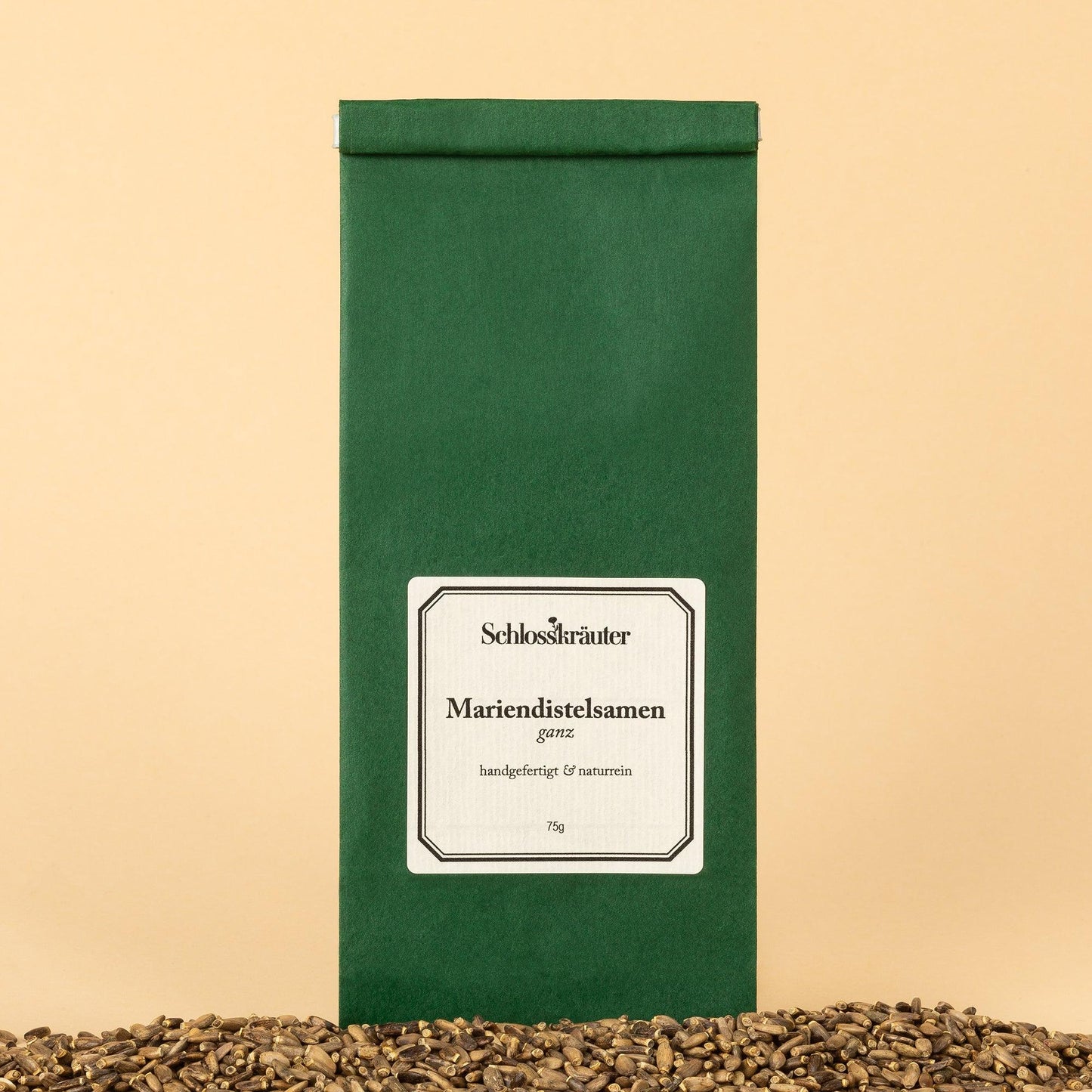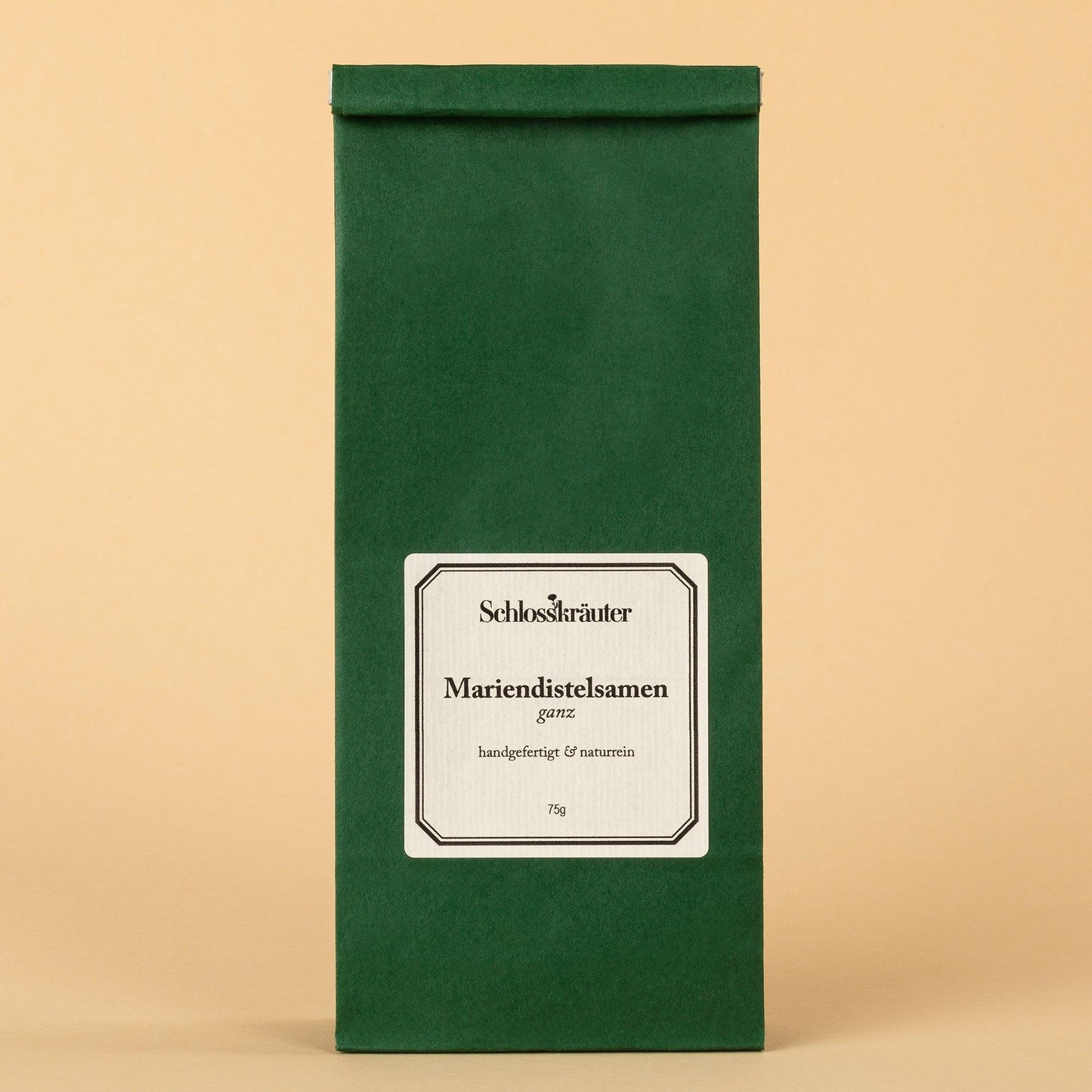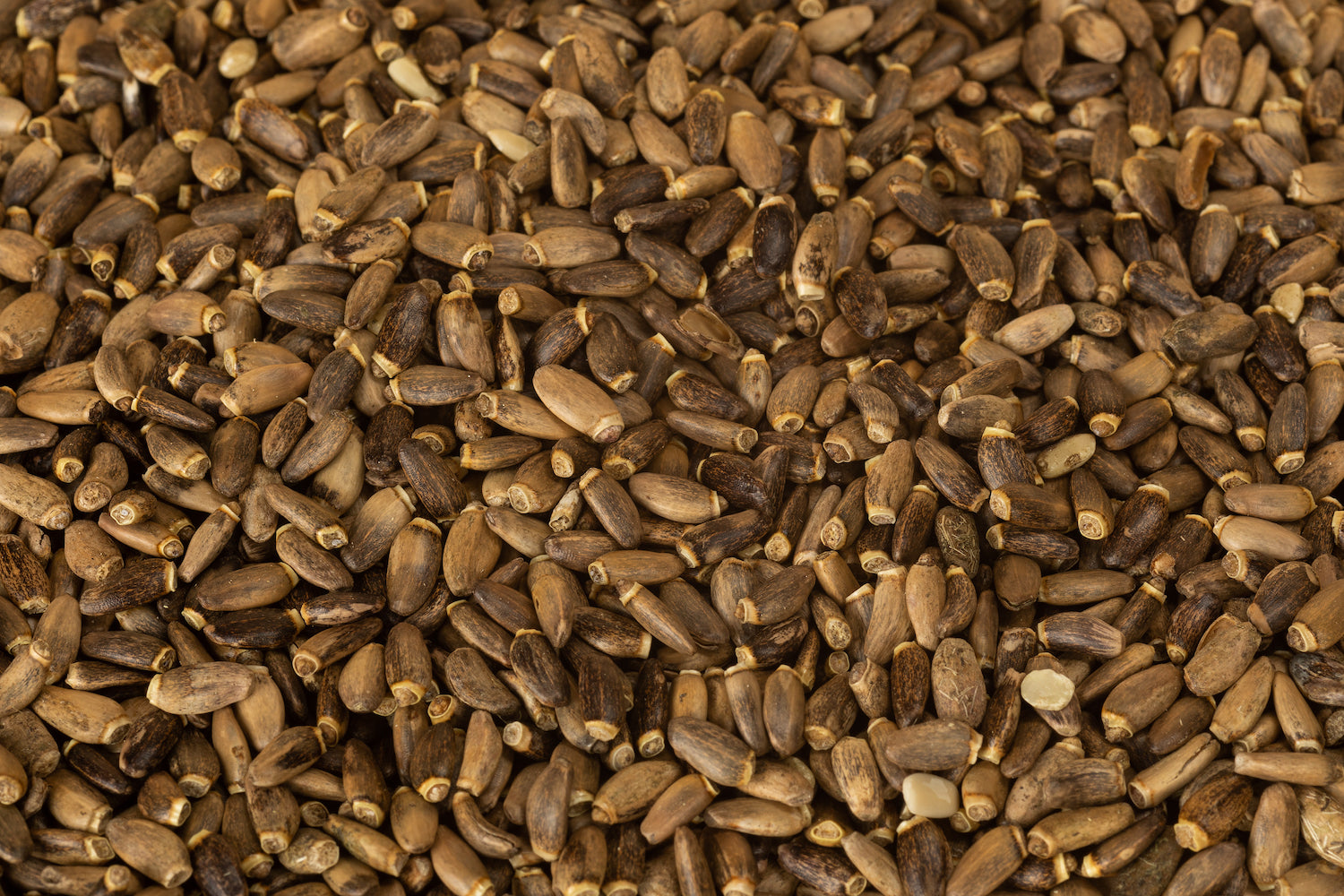 Power food for the liver
With our Milk Thistle Seeds you give your liver the best support it deserves. Rich in valuable ingredients, the fruits of the milk thistle are a real power food for your body. They help to regenerate and detoxify the liver naturally, which allows you to feel completely at ease. Trust in the unique power of milk thistle and ensure new vitality in your life!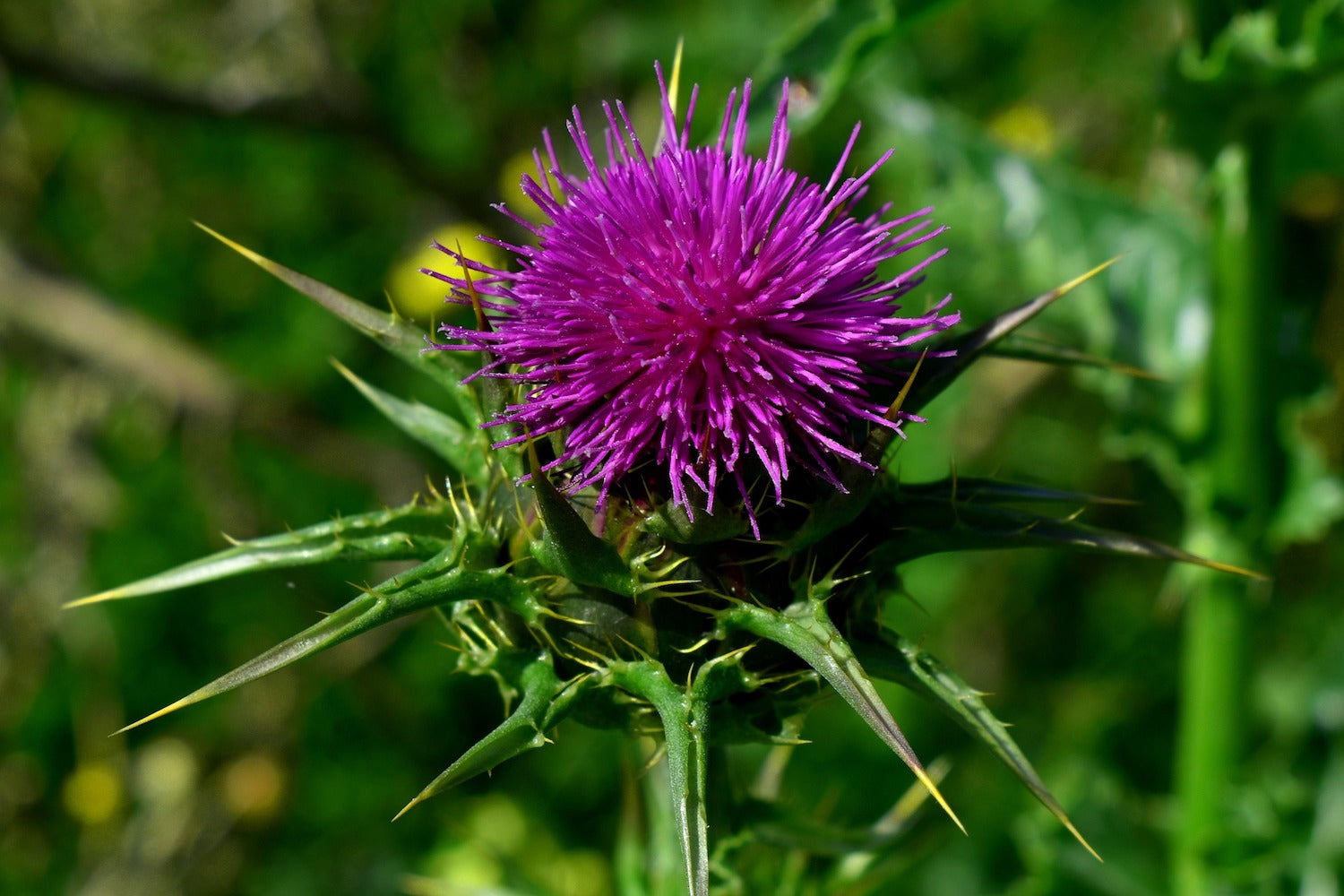 Natural liver regenerator
Milk thistle is a real treasure in natural medicine and has been used since ancient times. It is the only plant that can stimulate the regeneration of liver cells. Their fruits or seeds protect your liver cells from damaging influences and are a valuable source of silymarin, an active ingredient that stabilizes the cell membranes of the liver. Result: new vitality for your life!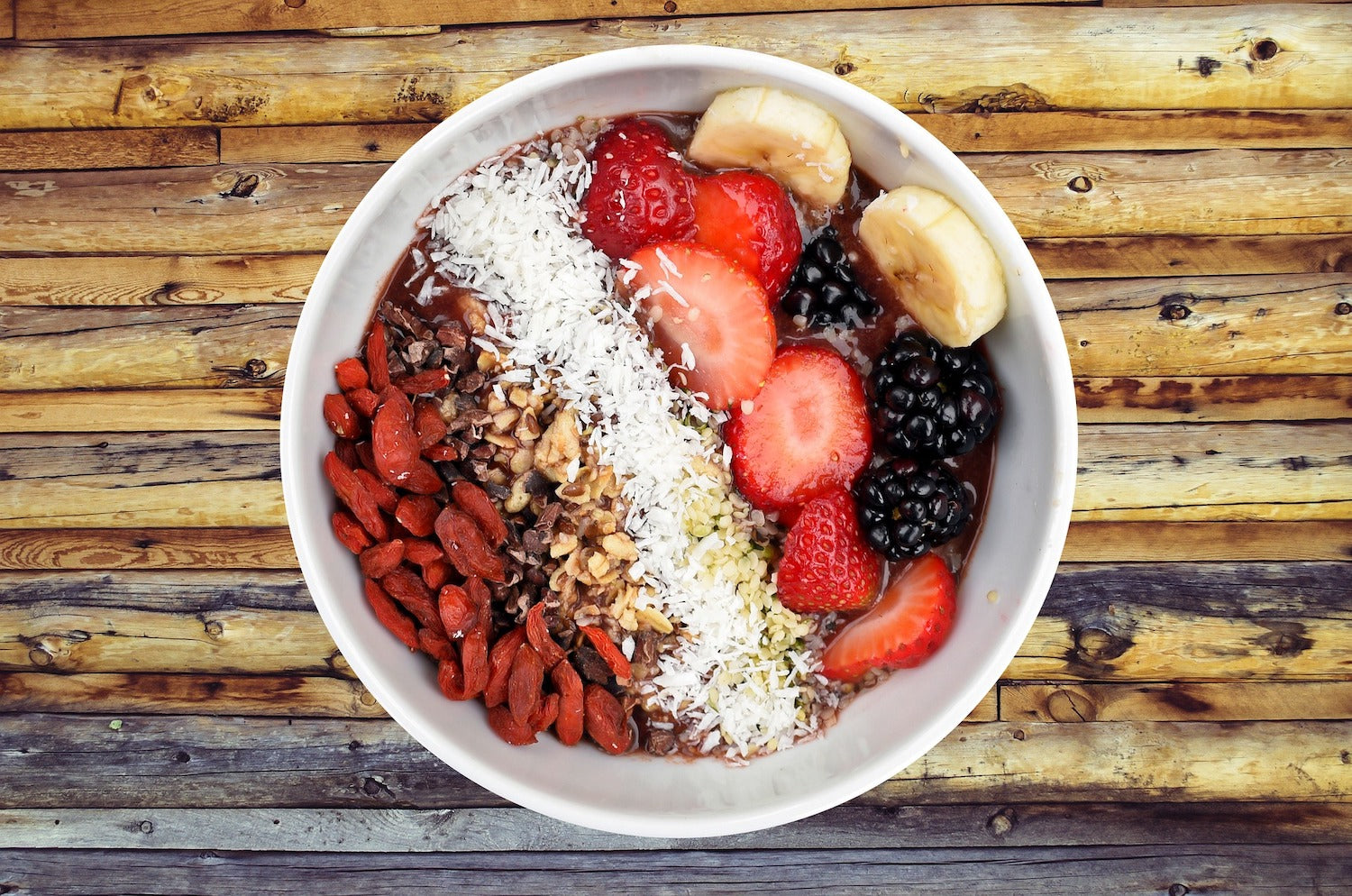 A breakfast with power
So that the ingredients of the Milk Thistle Seeds can be fully absorbed by the body, we strongly recommend crushing them before consumption or grinding them in a herb grinder. Simply sprinkle the ground seeds over your muesli, salads, soups, smoothies or other dishes to enrich them with an extra portion of nutrients and support your liver.



Collapsible content
Sustainable packaging

Our Milk Thistle Seeds are packaged in resealable paper bags. These consist of recycled paper and glassine paper for optimal aroma protection. When it comes to shipping, we only use what is necessary and therefore ship completely plastic-free.
Handgemacht.

Alle unsere Produkte werden nach eigenen Rezepturen von Apothekerin Anja Heinz von Hand hergestellt, abgefüllt und verpackt. Und das schon seit fast 20 Jahren.

Natürlich.

Schlosskräuter Produkte enthalten ausschließlich hochwertige und naturreine Ausgangsstoffe, Heilpflanzenextrakte und 100% reine ätherische Öle.

Weniger ist mehr.

Unsere Rezepturen enthalten nur das, was auch wirklich nötig ist. Diese kommen selbstverständlich ganz ohne Konservierungsstoffe, Mineralöle, künstliche Parfümstoffe oder andere chemische Zusätze aus.